Description
Before Bonfire, we used to collect logs, kindle the fire, hope it didn't flame out, and let it burn for 10 hours. Is there a better way?
Congrats, you've discovered Bonfire, our best-selling smokeless portable fire pit. Join thousands of others who are creating lasting memories. Yes, thousands!
Our Signature 360° Airflow Design™ does something you've never seen before in a fire pit. Details lower on page.

The world's favorite smokeless fire pit.
No one wants to constantly dodge campfire smoke and have their clothes and hair smell for hours after. Our design philosophy is all about maximizing the joy of the moment. Our Signature 360° Airflow Design™ creates a super efficient burn that's not only mesmerizing to watch but a joy to sit around and make memories.
Strategically placed holes in the double-wall structure draw in air from the bottom and feed the heated oxygen to the top, resulting in a spectacular secondary burn. The best part? Nearly no smoke and minimal ash left to clean!
"It was every bit as simple as everyone says. My kids love it, I love it, and my only regret is not getting it sooner." — George
"The masterfully ingenious design allows for incredibly simple to light and flawless burning that requires virtually no tending other than adding additional logs. . . The Solo Stove Bonfire IS THE PERFECT SOLUTION to anyone seeking to invest in a quality fire pit." — Larry
Did we mention free shipping and free returns? If Bonfire isn't the best fire pit ever, send it back and we'll send you a FREE prepaid return label (We don't think you will want to though). Return within 30 days for a full refund. Customers shipping from the outside the contiguous United States (Alaska & Hawaii) are responsible for return shipping costs.
Every Solo Stove product is backed by a manufacturer lifetime warranty.
Frequently Asked Questions
Where should I use the Bonfire?
The Bonfire works great in a backyard or take it with you to your car camping site.
Do I need to purchase any accessories?
No, your fire pit is ready to use with just wood. However, we do offer several accessories to make your experience even better. Check out our accessories here: https://www.prepsos.com/brand/solo-stove/
Does the Bonfire come with a cover?
No. Your Bonfire comes with a black, nylon carrying case. Bonfire Shelter, an all weather cover, may be purchased separately if you would like to leave your Bonfire outside.
How heavy is the Bonfire?
Could the price be lower?
Our focus from day 1 has been to craft the world's highest quality fire pit. Something that would last a lifetime. So we use the absolute best materials and highest levels of craftsmanship.
How do I cook on the Bonfire?
The Bonfire was designed to be used as a backyard fire pit, helping you gather friends and family. Feel free to break out the marshmallows and hot dogs or other fire pit friendly food!
What's the difference between the Solo Stove Lite, Titan and Campfire vs the Bonfire and other fire pits?
The Solo Stove Lite, Titan and Campfire are more portable backpacking and camping stoves meant for cooking. The Bonfire is the most amazing backyard fire pit and was designed to accommodate larger groups who enjoy sitting around a beautiful, smoke free flame.
What wood types do you recommend using as fuel?
Any firewood logs will burn but for optimum efficiency we recommend dry hard woods. Hardwoods such as birch, maple, hickory and oak will burn longer than softwoods.
How many logs should I use?
We recommend using 4-6 logs up to 16″ long. Don't overfill your Bonfire. Once you have a hot bed of embers, you can always throw on more logs. To minimize smoke and optimize your flame, don't fill the wood above the holes at the top of the fire pit.
How do I clean and store my Bonfire?
After your Bonfire is cool, turn it upside down to empty any remaining ashes left in your stove. Keep your Bonfire in a cool and dry place when not in use. It's that easy!
Will my Bonfire be hot when in use?
YES! Do not touch any part of the Bonfire when in use. It will be extremely hot. Children should always be under parental supervision when around the Bonfire. Use common sense and treat the Bonfire like any other fire.
Can you place the Bonfire in an existing fire pit?
Yes, however we recommend 2+ inches of clearance around the unit for proper ventilation.
Can I burn it on a wood deck?
You are required to use the Stand when burning on a wood deck. As long as you use the Stand, heat transfer is minimized and it is safe on most any surface.
Reviews
Great fire pit!
We just bought a new camper and we have found out that in most campgrounds we go to you can only have a fire in a pit. I invested in the Solo for multiple reasons, the most important is price. You can by a pit from the big box stores and it will work, for a short while. Then it rust out and you have to buy another next season. With the solo you ac
tually save money because it's quality Stainless steel so it won't rust out, and will last for years. It's smokeless when operated correctly, and it's so easy to transport. I promise if you have one at your camp sight you'll definitely be the envy of the campground!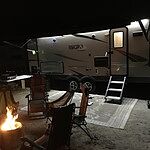 So little smoke
We have more bonfires then ever. We get more heat than our old fire pit and the smoke in our eyes is almost nonexistent. No more moving around to avoid the smoke.
Biggest challenge is finding the correct size fire wood.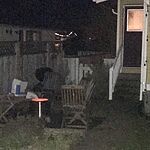 life-changer – in and out corona times
have a small terrasse – got the stove – wood – cold beer – and invited a buddy – yasssss!!!! best night in over a year!